The world's first LED lamp that supports wireless charging and has entered commercialization. It has a built-in inductive charging board that conforms to the international Qi wireless charging standard, and supports Nokia's recently released Lumia920. When charging normally, the user only needs to simply place the mobile phone on the bottom plate of the desk lamp to avoid the trouble of a separate charger.
In addition, due to its unique optical design technology, the light guide plate of the table lamp can also reduce unnecessary glare and shadow of the LED lighting, protect the eyes, and ensure sufficient light within the required range. As for other parameters, Symphos LED-TASKLIGHT has a maximum illuminance of 1400 lux (supports 4 levels of brightness adjustment), a size of 345mm & TImes; 98.8mm & TImes; 458mm, weighs 2.5 kg, and a maximum power consumption of 20 watts when powered. 8.4 watts.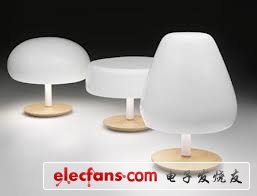 The base of Symfos LED-TASKLIGHT is also a wireless charger, which can provide 24V24W charging capability, as long as the mobile phone or battery that supports the Qi standard is placed on it to charge. Konica Minolta said that this is the world's first LED desk lamp that supports the Qi wireless charging standard.
Symfos LED-TASKLIGHT is divided into two models: A6KH-200 (dark blue) and A6KH-300 (white), which has been officially sold at the official price of 24800 yen, about 1872 yuan.
Classic Ceiling Lights, Led Flush Mount Ceiling Lights, Mount Ceiling Lights, Office Ceiling Light
Shenzhen Dianjiang Engineering Co. LTD , https://www.isourceled.com