[Editor's note] With the improvement of people's environmental awareness, as well as the improvement of LED performance and cost reduction, the realization of LED-based lighting era is no longer a piece of paper. In 2009, the LED lighting market was significantly more prosperous.
New and old manufacturers are united, and their offense and defense are fierce. LED lighting has already ushered in the Warring States era.
Low-priced products spurred market competition and gradually became hot
Following the launch of the first 4.3W LED bulb in March 2009, Toshiba Lighting Technologies introduced a new LED bulb in July this year, which is half the price of the previous product. Under the competitive pressure of Sharp's low-priced products, Toshiba has no choice.
Amazing price
In December 2007, Toshiba Lighting Technology Co., Ltd. introduced a small reflective bulb type LED lighting product with E26 lamp head and brightness equivalent to 40W incandescent lamp. In August 2008, the company introduced LED lighting products with brightness equivalent to 60W incandescent lamps. However, in order to meet the requirements of the power supply circuit and the surface area of ​​the heat radiation, the size of the two products is relatively large, and the application range is also limited.
In March 2009, Toshiba Lighting Technology released a 4.3W LED bulb with a brightness equivalent to 40W incandescent lamps. The manufacturer's suggested retail price (MSRP) is 10,500 yen (100 yen is about 7.63 yuan), and the market price is about It is 8,000 yen. The shape and brightness of this LED bulb is no different from that of an ordinary incandescent bulb. Its launch marks a revolutionary advancement in LED bulbs, and previous problems of insufficient brightness and limited application have been resolved.
Sharp's goal of adopting a low-cost strategy is to hope to establish a foothold in the LED lighting market as soon as possible. The company explained: "Sharp is a latecomer to the LED lighting market, so we have chosen such a strategic price." Obviously, Sharp is the top priority for market share rather than profit.
Lighting market will expand 4 times in the next 4 years
At present, there are disputes among the Japanese LED lighting market, including veteran manufacturers, emerging powers and overseas companies. They are full of confidence in the future of the LED lighting market. According to a report by Fuji Keizai, a Japanese market regulator, the LED lighting market in Japan will expand at least four times between 2008 and 2012: although the overall growth rate of the Japanese lighting market was only 8.6% during the same period, the market for LED lighting The scale will increase from 13.3 billion yen to 57.8 billion yen, and will account for 12% of the overall lighting market by 2010 (see Figure 2). Since 2006, the global white LED lighting market has grown at an annual rate of approximately 50%. In 2009, the market size has reached 160 billion yen. In the next few years, the market will accelerate growth, and the market size in 2012 is expected to increase to three times that of 2009 (see Figure 3). At the same time, the application of white LEDs in the field of lighting will also be greatly expanded, and will account for more than 20% of the entire white LED market by 2012.
Figure 2 Japan's LED lighting market will grow at least 4 times in the next 4 years
Figure 3 LED lighting accounts for more than 20% of the global market. Eliminating incandescent lamps is a trend in the world and is driving the development of the LED lighting market. The Ministry of Economy, Trade and Industry and the Ministry of the Environment have asked for the production and sales of incandescent lamps to be stopped by 2012. Lighting manufacturers are cooperating and have announced the date of suspension. Fluorescent lamps are currently the most common alternative to incandescent lamps, but LEDs are increasingly favored by people for their long life and good color temperature characteristics.
Big companies have seized the market
Due to the high expectations of users and the rapid growth of the market, since 2008, the old companies in the lighting market have launched new LED lighting products. At the same time, many large companies that have made great achievements in other industries have begun to enter the market. In September 2008, Sharp launched low-cost basic lighting and spotlighting LED products, becoming the first companies to enter the market. At the end of 2008, electronic component manufacturer ROHM Semiconductor Corporation launched LED spotlights; in the spring of 2009, the company jointly developed a storefront basic lighting product with a design company. Daiwa Housing Industry Co., Ltd., together with companies such as Kyocera and NABESHO, has developed LED basic lighting fixtures for commercial facilities.
In addition, leading lighting manufacturers such as Philips Lighting and OSRAM are also expected to expand their market share by developing new LED lighting products. Philips Lighting not only introduced general-purpose LED lighting, but also LED spotlights, indirect lighting and other special lighting fixtures.
First, the analysis of the LED package shows that the luminous efficiency of the LED is steadily increasing. According to the blueprint for technology development announced by the Japan LED Association (JLEDS) in 2008, the luminous efficiency of high-efficiency LED fluorescent tubes will reach 120lm/W in 2009, and the luminous efficiency will exceed 150lm/W in 2015. Some people in the industry believe that this goal can be achieved 1 to 2 years in advance. Yamada Fan Xiu, vice president of Philips Lumileds Lighting Japan, said: "In the next two to three years, we will introduce LED products with luminous efficiency up to 150lm/W." Nichia Chemical Industry Co., Ltd., Vice President and Chief Operating Officer Tian Qideng also said: "We have achieved a luminous efficiency of 120 lm / W ~ 130 lm / W, and the product with luminous efficiency of up to 150 lm / W has also been mass-produced." [To be continued, please pay attention to the LED lighting industry , compete in the global market (middle)"

This style is Bagless Vacuum Cleaner. This kind of Vacuum Cleaner has speed control in it.,so you will use it very diverse. It also has big dust cup capccity,then you can use it for a long time. Its cyclone system is multi-cyclone. Its dust cup is transparent dust container. It also has HEPA filter and multi-level filter. So it will avoid to cause secondary pollution. This design has high suction power,too. So you can use very effortlessly.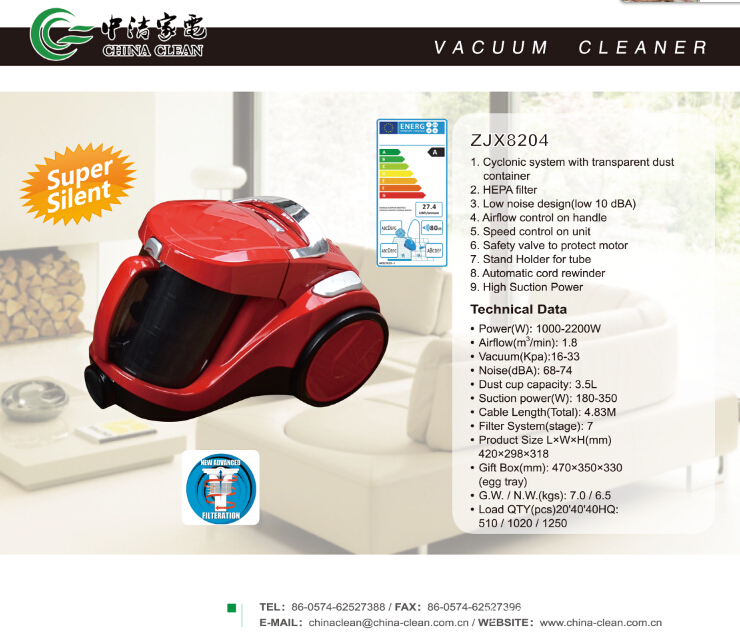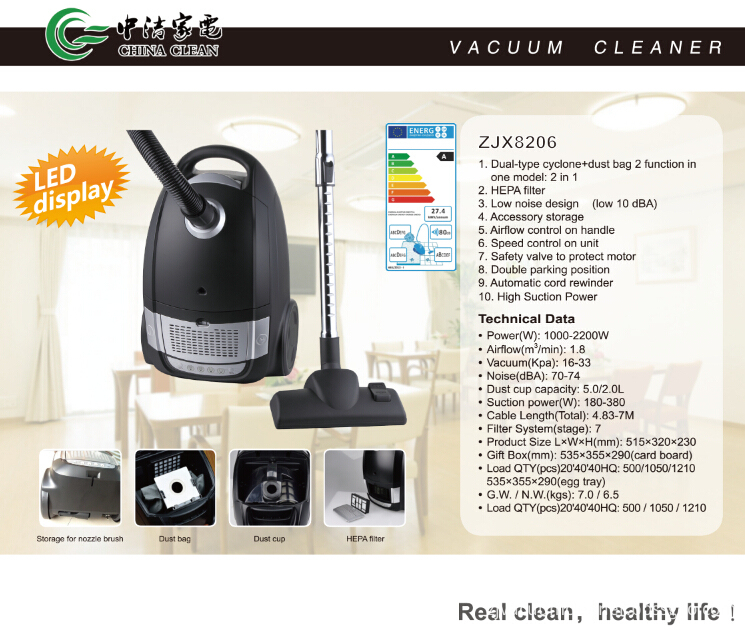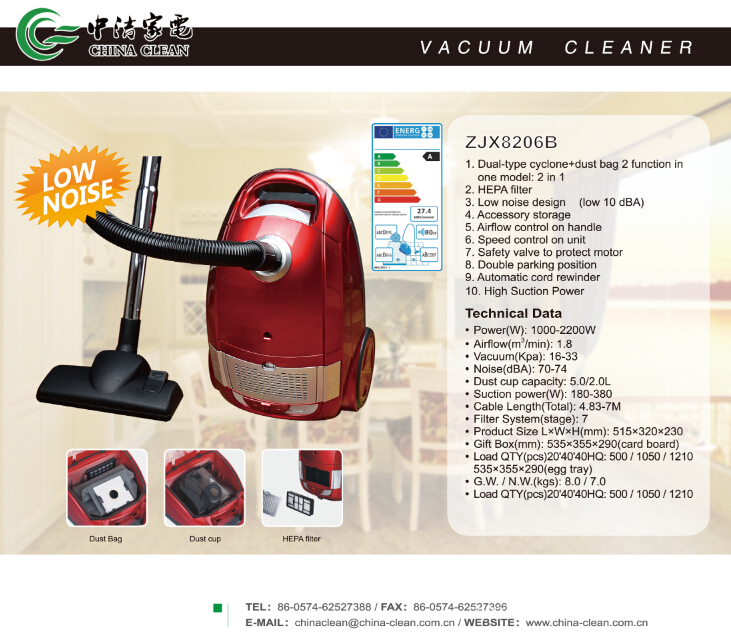 Bagless Vacuum Cleaner
Dust Cup Vacuum Cleaner, Bagless Vacuum Cleaner, Bagless Upright Vacuum Cleaner
Ningbo ChinaClean Household Appliances Manufacture Co., Ltd. , http://www.chinaclean-elec.com