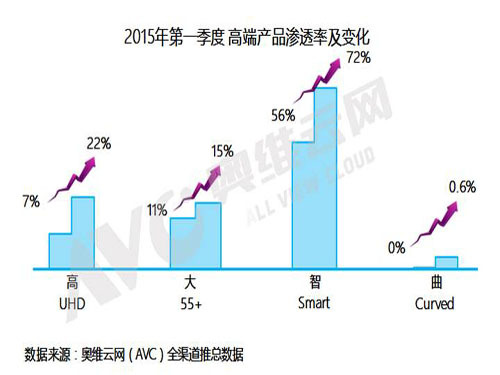 TV companies that have experienced "winter" in the past year have recovered a bit of "warmth" in the first quarter of 2015. A few days ago, the total om channel data released by Ovid Cloud Network showed that the total volume of retail sales in the Chinese color TV market in the first quarter was 1233. Million units, total retail sales of 40.4 billion yuan, respectively, an increase of 13% and 10%. According to the report from Ove Cloud, the increase in retail sales in the first quarter was mainly due to the promotion period of Yuanchun promotion this year. The data show that the total retail volume of color TV market reached 9.41 million units in January-February, an increase of 18% year-on-year, and rural electricity. The strong business momentum, in addition, the continuous decline in the price of the upstream panel, to a certain extent, eased the market operation space for the entire company.

The report also believes that the first quarter of the domestic color TV market operation presents four major characteristics, including: strong e-commerce power, leading the traditional offline peak, the data show that the total retail sales in the online market in the first quarter was 2.45 million units, an increase of 117% over the same period, accounting for 20% of the overall color TV market, it is expected that e-commerce will become the normal channel for color TV market in the future; internet brands will make efforts, and the prices of Japanese and Korean brands will display a big screen. The data shows that the retail sales of domestic brands in domestic color TV retail market accounted for 87.7% in the first quarter. The share of Japanese and Korean brands was 6.9% and 5.4%, respectively, while the retail share of internet brands increased by 5% year-on-year; small-scale iterations accelerated, large-size share increased, and product share over 50-inch increased overall, 32-inch smaller The screen continues to shift to the 42-inch segment; user demand continues to upgrade, and ultra-high definition televisions, large-size TVs, and smart TVs have become mainstream products in the color TV market.

According to Liu Fei, an analyst at Alve Cloud Network Black Power, although the market has picked up in the first quarter, the competition in China's color TV market, which tends to be saturated, remains grim. The situation in the year is not yet clear, and the creation of differentiated products is an increase in 2015 China's color TV companies. The key element of market competitiveness.
Electric Infrared Ceramic Cooker
Electric Infrared Ceramic Cook,Ceramic Cookware,Electric Ceramic Cooker,Kitchen Ceramic Electric Infrared Cooker
Shaoxing Haoda Electrical Appliance Co.,Ltd , https://www.zjhaoda.com