Beijing, China, October 14, 2015 – Dialog Semiconductor, a wireless technology provider with highly integrated power management, AC/DC power conversion, solid state lighting (SSL) and Bluetooth Smart (Frankfurt Stock Exchange: DLG ), recently announced a partnership with Bosch Sensortec to develop a very low-power smart sensor platform using Bosch Sensortec's sensors and Dialog's smart Bluetooth technology.
The result of this collaboration is the world's lowest power 12-degree-of-freedom (DOF) smart sensor reference platform for gesture recognition in wearable computing devices and immersive games, including augmented reality, 3D indoor drawing and navigation.
The platform combines Dialog's DA14580 Smart Bluetooth System-on-Chip (SoC) with three low-power sensors from Bosch Sensortec: BMM150 for 3-axis geomagnetic field measurement; BME280 for pressure, humidity and temperature sensors; and 6-axis BMI160 (integrated) 3-axis accelerometer and 3-axis gyroscope in one chip). The final product is mounted on a 14 x 14 mm2 printed circuit board and uses a 3V coin cell battery to consume less than 500 μA when updating and wirelessly transmitting all 12 x 16-bit data to the smartphone.
Udo-MarTIn Gomez, Chief Technology Officer of Bosch Sensortec, said: "The result of this close collaboration between Bosch Sensortec and Dialog is the world's lowest power smart Bluetooth networked sensor platform. Higher functional integration and lower power consumption are mobile consumer electronics. Key design goals for core devices. With the experience of our two companies, we have seen many opportunities to provide customers with a competitive edge by developing smaller, more integrated and more energy-efficient smart interconnect solutions."
Mark Tyndall, senior vice president of business development and strategy at Dialog Semiconductor, said: "Our partnership with Bosch Sensortec combines state-of-the-art Bluetooth, power management and sensor technology to enable our customers to develop high performance with long battery life and Innovative products. The complementary strengths of the design teams of both parties enable us to help our customers stay at the forefront of technology in the development of the IoT market."
Platform technology summary
Dialog's DA14580 SmartBondTM SoC, adopted by many leading wearable device manufacturers, integrates a smart Bluetooth radio receiver, an ARM® CortexTM-M0 application processor, and intelligent power management. It extends the battery life of applicaTIon-enabled smartphone accessories, wearables or computer peripherals by more than double compared to competing solutions. The DA14580 includes a range of analog and digital interfaces and consumes less than 15 mW in operating mode, 600 nA standby current, and 2.5 x 2.5 x 0.5 mm, half the size of competitors.
Bosch Sensortec's BMI1606 Axial Inertial Measurement Unit (IMU) integrates a 16-bit, 3-axis, low-g accelerometer and an ultra-low-power 3-axis gyroscope in a single package. When the accelerometer and gyroscope are in full operation mode, the typical current consumption is 950 μA, which is only half that of the nearest competitor.
The BMM150 integrates a compact 3-axis geomagnetic field sensor using Bosch Sensortec's high-performance FlipCore technology.
The BME280 integrated environmental unit integrates multiple sensors for air pressure, humidity and temperature measurements in a single package. The BME280's precise height measurement is a key requirement for applications such as indoor navigation with ground tracking. In addition, the BME280 has a first-class response time of only one second when measuring humidity, with accurate ambient temperature measurement and very low current consumption.
About Dialog Semiconductor
Dialog Semiconductor offers highly integrated standard (ASSP) and custom (ASIC) mixed-signal integrated circuits (ICs) for mobile computing, IoT, smart home and lighting applications. With decades of experience, Dialog is able to rapidly develop a wide range of ICs, providing business partners with flexible and dynamic support, world-class innovation and security services. Dialog works with world-class manufacturers to adopt a fabless business operation model. As an employer, Dialog actively assumes social responsibility and conducts activities to benefit employees, communities, other stakeholders and the natural environment.
Dialog Semiconductor's DC-DC configurable system power management and other energy-saving technologies enhance efficiency and enhance the consumer's user experience by extending battery life and enabling fast charging of portable devices. The company's technology portfolio also includes audio, smart Bluetooth® Smart®, fast charging Rapid ChargeTM AC/DC power conversion and multi-touch technology.
Headquartered in London, Dialog Semiconductor has sales, R&D and marketing facilities worldwide. In 2014, Dialog achieved revenue of approximately $1.16 billion and is one of the fastest growing listed semiconductor companies in Europe. Currently, the company has 1,500 employees worldwide. Dialog is listed on the Frankfurt (FWB: DLG) stock exchange (Regulated Market, Prime Standard, ISIN GB0059822006) and its stock is a constituent of the German TecDax Technology Stock Index.
About Bosch Sensortec
Bosch Sensortec GmbH, a wholly owned subsidiary of Bosch GmbH, specializes in providing complete micro-electromechanical systems (MEMS)-based sensors and solutions for consumer electronics to help mobile devices feel and perceive the environment around them. Bosch Sensortec develops and markets a wide range of MEMS sensors, solutions and system products for a wide range of products in the areas of smartphones, tablets, wearables and the Internet of Things.
Products include a wide range of inertia (acceleration, yaw rate), geomagnetic and environmental (atmosphere, humidity and gas) sensors, and a range of software products embedded in smart sensors. Since its inception in 2005, Bosch Sensortec has established itself as a technology leader in the respective markets. The Bosch Group has been a global leader in the MEMS sensor market since 1998 and has shipped more than 6 billion units of MEMS sensors to date.
We are professional manufacturers and leading suppliers of ball shape led in China. All ball shape led products offered in our factory are with competitive price.
Ball shape LED Video display: Model: JoyLED-Ball; LED Video Ball; UL,CE,Rohs,FCC Approved; 5 Years Warranty; LED Video Ball, 360 Degree Video 3D Led Display with high brightnes s for indoor and outdoor use. JoyLED Ball shape LED Display is widely applicated in restaurant, hotel, meeting room, etc.
Ball shape LED Video display Features:
1.360 degree viewing angle, nice video, pictures visual effect,Display different videos like normal screens
2.Aluminum structural design, can be movable, suspended,Excellent cooling channel design,Special design LED modules ensure seamless assembly.
3.Extra-high brightness and can be adjustable,It can meet the needs for different environmental applications.
4.Support Synchronous,Asynchronous,Wifi,3G,4G control.such as linsn led,novastar led control system.
5.LED Ball Diameter 1.2m, 1.5m, 1.8m, 2m, 2.5m ,3.6m, 4m for you for choice.adopt small unit module assembling technology which can make Circular Led Display, more smooth and perfect.
6.Support hanging,floor stand,embedded installation,etc.
7.Widely used in hotel, stage, club, museum, exhibition hall, shopping mall,etc
Ball shape LED display,LED Video Ball,360 Degree Video 3D LED Display with High Definition For Advertising Purpose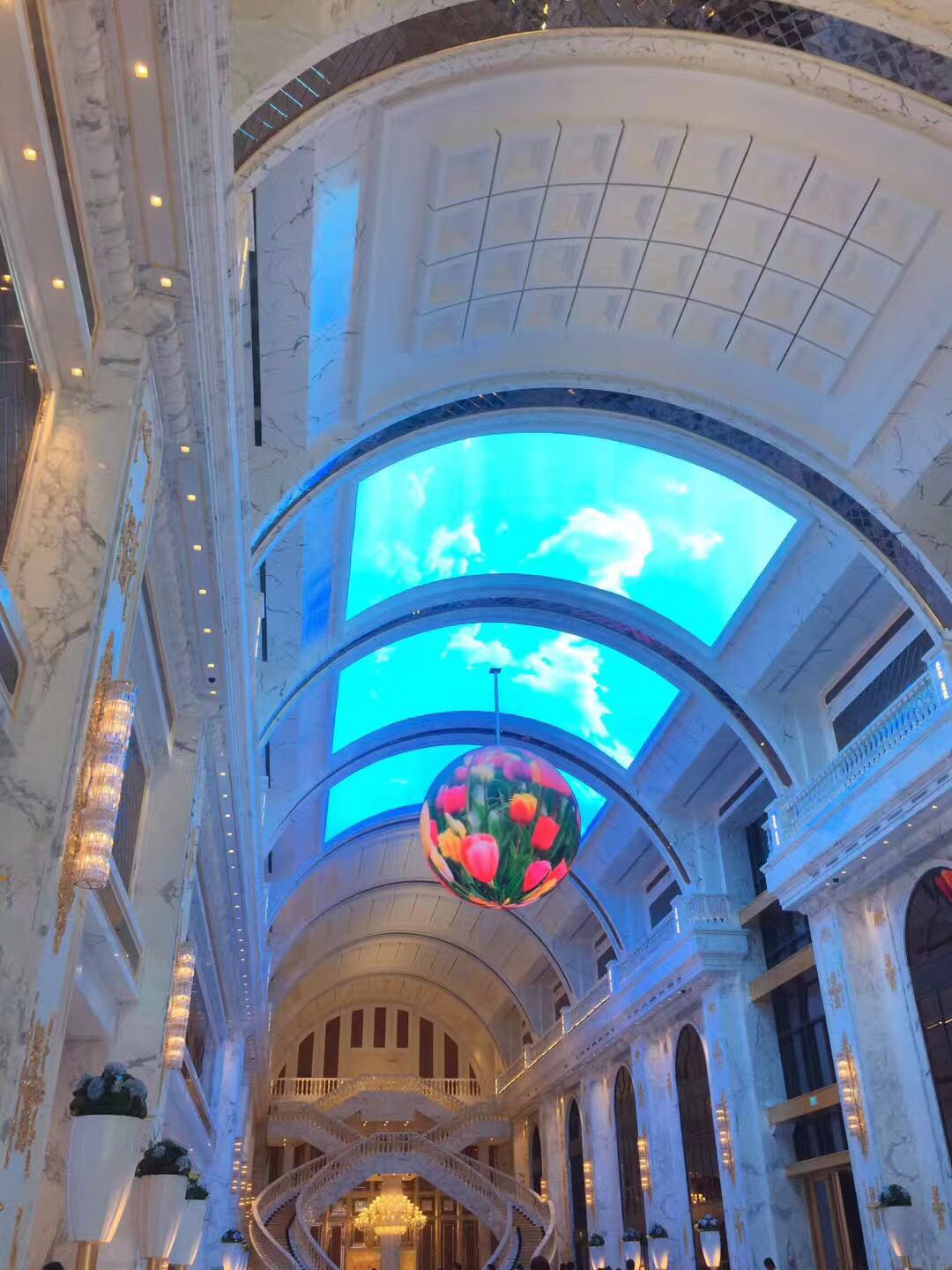 Ball shape LED Display
Circular Led Display,Circular Flexible Led Display,Circular Advertising Led Display,Circular Video Led Display
Shenzhen Joy LED Display Co., Ltd. , https://www.joe-led.com